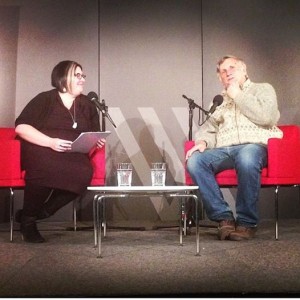 It's been an incredibly busy and incredibly good time for me over the past few months. I've submitted a book chapter for an amazing project, done an in-conversation event with John Marsden at The Wheeler Centre, hosted a panel on women in writing at the Emerging Writers' Festival, been asked to join in on the National Young Writers' Festival fun later this year and been accepted to the European Festivals Association Atelier.
I'm particularly stoked to be going to NYWF this year. My years directing the National Student and Emerging Media Conference (before VSU put an end to it) were some of the most formative for me. They were a baptism of fire in how to program literary/media events and put me in touch with a network of peers that I still work with to this day. I've gone back to This is Not Art a few times as an audience member, and a few times to host or facilitate panels for either Cracked or NYWF, but this year it will be even more wonderful to return and help out any way I can as two women I admire greatly — Alex Neill and Jess Alice — are at the helm. I've worked with Alex over many years, including one year where she took on the role of Editor at The Pun (the first and only time I've ever had a publicist ring me to rave over how wonderful one of our editors was… she's that awesome) and with Jess over the last few at Express Media. Both are shining examples of artists who also have excellent artistic direction skills. They can admin the shit out of an arts project just as well as they can creatively craft it, and I can't wait to cheerlead from the sidelines as they create an absolutely spectacular NYWF 2014.
NYWF takes place in early October, meaning it will be a very short time after that I will head off to Poland to participate in the Atelier. In the lead up I will need to write a paper to present, and start to whittle down my wish-list of places nearby I want to visit. One non-negotiable is, of course, dropping in to visit Melbourne's sister City of Literature, Krakow. They have some particularly wonderful initiatives which I would love to hear more about.
I'm also looking forward to seeing some results flow from the Women in Writing roundtable at EWF. You can check out my blog post about the event, but it is nice to be able to update you and let you know that we are already working towards our first event. The idea came directly from the session we held, and I can't wait to share more about it with you.
I had a wonderful time doing our in-conversation event with John Marsden at The Wheeler Centre to launch the John Marsden Hachette Prize for Young Australian Writers. John is generous with his advice and enjoyable to talk to about all things writing. Having started reading his books as a teenager it was wonderful to talk to someone I have admired for so many years. The photo above is courtesy of Courteney Hocking, who came along and snapped from the front row.
National Young Writers' Month has wrapped up, and this year the blog was a resource jam-packed with information and inspiration thanks to our Projects and Awards Intern Aleczander Gamboa. He really went above and beyond the call of duty. During NYWM I had a chat with 2013 Scribe Prize winner Oliver Mol, which you can check out here.
I really did think the second half of this year was going to slow down somewhat, but there are in fact more exciting possibilities on the horizon than ever before. Heading to Poland is obviously high on the list of awesomeness, and I hope I can fill you in on some of the rest soon.