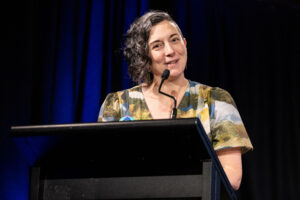 Lefa is a disabled freelance writer and creative producer from Melbourne.
Currently she works as a Creative Producer for Arts Access Victoria and is board member of National Young Writers Festival.
Most recently she was a contributor to We've Got This: Stories by Disabled Parents (Black Inc., 2022) where she wrote about how her feminism and disability politcs have shaped her parenting.
Until 2021 she was employed by Yarra Plenty Regional Library in a role that saw her developing and delivering region-wide programming across nine branches. Lefa has previously been employed at the Centre for Youth Literature at State Library Victoria producing events for writers and readers of YA, and at Express Media as the Creative Producer responsible for projects designed to showcase the work of writers under 30.
Lefa's freelance writing has been featured in publications such as The Age, ABC Everyday, SBS Online, Overland, Junkee and The Big Issue, and she has contributed chapters to We've Got This: Stories by Disabled Parents (2022), The Emerging Writer (2013) and The Noobz (2014). She has been heard on radio stations including Radio National, Triple RRR, SYN FM and 3CR delivering book reviews and discussing issues including feminism, disability and gender discrimination.
In her capacity as a freelance events producer she has been responsible for events as diverse as the Campaign for Australian Aid Comedy Gala (2016), Meeting Place (2022), and the Independent Publishers Conference at Small Press Network (2015). She was the director of the Student and Emerging Media Conference at This is Not Art (2004/2005).
As a facilitator and speaker Lefa has appeared on stages at the Melbourne Writers Festival, The Wheeler Centre, Reading Matters, Emerging Writers' Festival, National Young Writers Festival and The ANU Symposium on Emerging Writers. In 2017 she was selected as the only Australian guest of the International Literature Showcase in Norwich, England.
Lefa's career as a writer and editor began during her university days at La Trobe University where she was a co-editor of student magazine Rabelais. This experience led her to launching The Pun, a print magazine produced weekly during the Melbourne International Comedy Festival from 2006-2012, which featured news, interviews and reviews of shows. Her time in student media also led to her taking the helm of the Student and Emerging Media Conference, a stream of the This is Not Art festival in Newcastle, where her love of producing arts and literature events was born.
As an award-winning producer, her shows have appeared in festivals including Melbourne International Comedy Festival, Melbourne Fringe Festival and Adelaide Fringe Festival. Cartoobs and Other Typos, the show she produced for cartoonist First Dog on the Moon, received the Adelaide Fringe Tour Ready Award at the Melbourne Fringe Festival in 2012.