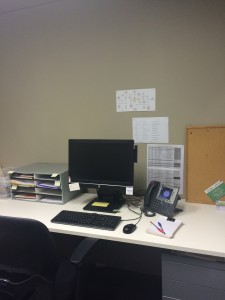 After three and a half years, I leave behind this familiar (now empty) desk and set off on new adventures. My time at Express Media has been rewarding in so many ways, but it has also been exhausting and all-consuming. It was well and truly time to move on, but I'm sad to draw a close to this chapter of my life.
When I started at Express Media, working with Joe Toohey as General Manager, my son was barely one, my CFS/ME was in remission, I hadn't yet been diagnosed with an autoimmune disorder and I had been working freelance for many years. I stumbled upon the job advertisement by accident, I wasn't looking for work. But when I read the ad, I knew I had to apply. I'd applied to work at Express years before, and had always had it on my radar as a place that perfectly aligned with my interests in emerging writers/writing, nimble not-for-profit arts organisations who weren't afraid to try new things and a dedication to responding to the needs of communities of artists. I was so excited to get the job.
When I walked in the door, Express was undergoing a period of change. They were moving from a co-CEO model with an Artistic Director and General Manager, new projects were at infancy stage and Joe was fresh to his role six months earlier. The role was three days per week for my predecessor, the amazing Bel Schenk, and for me in the first two years, but in my time the projects grew exponentially. I started off by launching The Signal Express, The Under Age and National Young Writers' Month (which Bel had conceived of and found partners and funding for). As the years went on Joe and I also conceived, launched and administered an expanded Buzzcuts program, Hologram (Jojo Jakob's project which launched us into publishing novellas), Signal at EWF, Global Express, Scribe Non-fiction Prize, Young Writers Innovation Prize, Literary Salon public events, an annual Best of Express ebook, an education program for schools to create their own publication, a new website, the State Representatives program and numerous small or one-off events and projects.
Having the freedom to create projects from scratch, or bring to fruition amazing endeavours like The Under Age was an amazing opportunity. I also had the great pleasure of working with partner organisations such as 100 Story Building, EWF, MWF, Melbourne Fringe Festival, Writers Victoria, SYN FM, Scribe Publishing, Hachette, State Library of Victoria, Centre for Youth Literature, Triple R, RMIT, Centre for Multicultural Youth, Australian Poetry, Small Press Network and The Wheeler Centre.
Now is the time to move on for a few key reasons. Firstly, I strongly believe that in a youth organisation young people should be making the decisions and be in control. I'm not ancient by any stretch, but I'm now four years too old for any of the programs Express runs. I was lucky enough to sneak in a few years in before it felt disingenuous to be doing 'youth' work anymore, which I'll be forever glad for. In addition, the current General Manager, Steve Lamattina, has been in the role for over a year. Joe Toohey kind of beat me to the punch leaving when he did, and once he was gone I felt responsible to stick around long enough for his replacement to be settled and provide the organisation with some stability. I'm sure Steve will enjoy having a new partner to imagine the future of Express Media with. Lastly, there are also the factors that come with working in small, under-resourced arts organisations. I remember Bel telling me when I took over the role that she felt like there were so many projects she was always dividing her attention between things, and it got too wearing. After adding on so many projects to the workload, I also felt divided all the time. I also felt like I never had the time to do each project justice. I felt eternally behind on emails and administration. I started to feel like I wasn't meeting my own standards for the work we were able to do. And I think I just got plain old tired.
I've been lucky to have two jobs now that have felt like they challenged me and made me exponentially better than I was before I entered the roles. The first was editing Rabelais for two years, and the second is Express. You leave these positions knowing how lucky you were to have the autonomy, the support, the opportunity. And you wonder if you'll ever find it again.
My time with Express has been invaluable for my professional development, and I've found great friends here as well as colleagues. I'm sure many of the people I have worked with will be future collaborators at other organisations and projects. I'm proud of what I and the people I worked with have achieved. I feel like I've made valuable contributions. I suspect I've gained more than I gave. My replacement is yet to be appointed, but I look forward to seeing who they will be and what they bring to a brilliant development role.