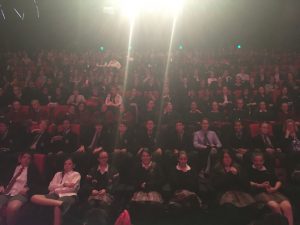 This year was supposed to be my maternity leave year… how did I do keeping to my goal of not taking on any major projects? Well, let's say I failed, but I failed well.
Linus was born November 2016, and I did manage to have almost a full 12 months without a major project. I did, however, take the opportunity to be a guest at the International Literature Showcase in Norwich, City of Literature. And then I accidentally (on purpose) fell into the perfect part-time role at the Centre for Youth Literature (CYL) at State Library Victoria.
So why did I knowingly divert from my 2017 goal? Because these two opportunities were worth it. Visiting Norwich and meeting literary programmers, producers and artists from all over the world was a once-in-a-lifetime opportunity. I felt so fortunate to be the only Australian in attendance and learned so much in my week in Norwich. Joining CYL has been a career goal for me for as long as I can remember. It's one of the few workplaces I see doing youth-driven, engaging programming for YA lovers. The chance to deepen my YA knowledge (I'm a huge YA reader) and learn from this experienced team of programmers and producers was one I couldn't pass up. Not to mention it happens to be the perfect part-time fit for my current life with two children.
These two things are my clear work highlights of 2017. As I wrote about earlier this year, it wasn't a stellar year for reading. I finished up reading 50 books, which is far less than I've managed for quite a while. That's what having a baby does to your hobbies! I also facilitated some really great panels at Reading Matters, Melbourne Writers' Festival and the inaugural Feminist Writers Festival: I always feel so lucky to speak with writers whose work I love such as AS King, Lili Wilkinson, Shaun Tan, Penny Modra and Kyo Maclear.
I'm looking forward to 2018. When I joined CYL it was on a short contract until the end of the year but I'm incredibly happy to have extended that until mid 2018. I'm really enjoying the role and working with some great people. It does mean that I am unlikely to get much writing done, but as always producing brings a different kind of work pride and enjoyment. I'd like to read more books next year, too. I think that's my only firm goal for the year professionally: read more. Always nice to set a goal you enjoy.