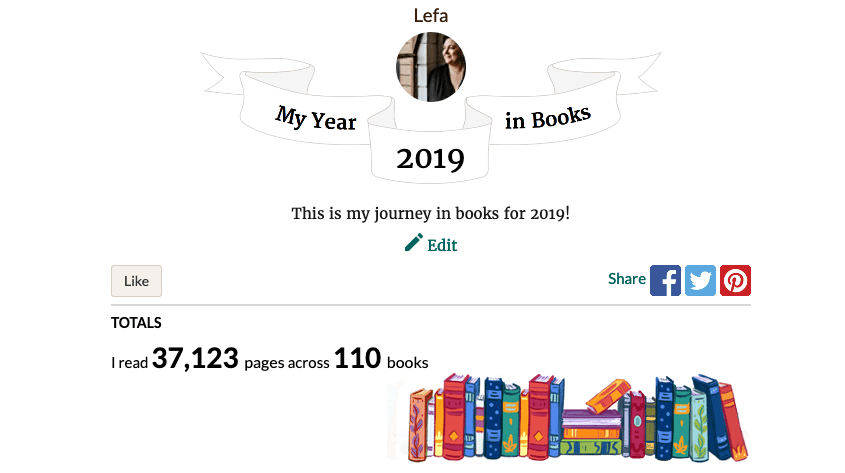 This was a blockbuster year of reading for me. Over 100 books across most genres. But as we all know, it's not how many you read that matters, it is whether you managed to find books that made your heart sing or kept you up late into the night or left an indelible impression on you. I definitely felt like this was a good year for me in finding some exceptional reads.
Highlights of 2019:
Australian fiction: Rain Birds by Harriet McKnight, A Constant Hum by Alice Bishop, Wintering by Krissy Kneen, Beautiful Revolutionary by Laura Elizabeth Woolett, The Dark Lake by Sarah Bailey.
YA/MG: How to Make a Movie in Twelve Days by Fiona Hardy, Sick Bay by Nova Weetman, Red White and Royal Blue by Casey McQuiston, Sophia and the Corner Park Clubhouse by Davina Bell, The Secret Commonwealth by Philip Pullman, How to Bee by Bren MacDibble.
Fiction: The Plotters by Kim Un-su, Normal People by Sally Rooney.
Non-fiction: Dark Emu by Bruce Pascoe, Only by Caroline Baum.
Notably, of the many, many crime books I read in 2019 I only added one to my highlights of the year (Sarah Bailey). I listen to a crime novel audiobook to fall asleep to nearly every night, but if it is a particularly good book I quickly switch to listening to it during the day so I can give it my full attention (or probably more accurately, so that it doesn't keep me up at night!). You'd think that, statistically, reading more crime novels would mean it would feature more in my highlights. Does the fact it doesn't mean I have higher standards for what makes a notable crime novel, or does it indicate I'm losing interest in the genre? A little of the former, probably, but not the latter.
We read different books for different reasons. For me, a good crime book is one that keeps me wanting to turn the pages and find out whodunnit. It also needs engaging characters, a setting that I enjoy and when it comes to audiobooks, a good narrator. I use crime books to unwind before sleep. The predictability of the genre is a big part of its appeal. But that doesn't necessarily mean all of the books that fit in the genre also fit my criteria for what makes a good book. A good crime book needs to stand out from others in the genre, yes, but it also needs to fulfil my (rather nebulous) criteria for what makes a good book in general. I'm going to write a follow up post about this very thing and what it made me realise.