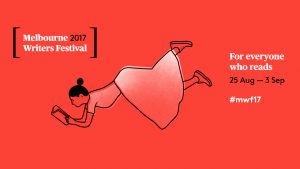 Every year when I'm asked to facilitate panels at Melbourne Writers Festival I pinch myself. The festival, particularly in the last five years under Lisa Dempster's helm, is such a joy. I have found myself chairing sessions with writers I admire or talking about topics I'm passionate about. I love the opportunity to immerse myself in their work and explore what they write. This year I am hosting the following panels:
10am Tuesday 29 August
Budding writers, join author and stand-up comedian Oliver Phommavanh in this rapid-fire writing skills session! Learn exercises designed to beat writer's block and finesse your writing skills to get you on your way to being a true wordsmith.
11.15am Tuesday 29 August
How do you write video games? Why are they such a great way of exploring narrative and consequence? Learn the tricks of the trade and explore a new form of writing with games writers Dan Golding and Leena van Deventer.
Sexism as a Mental Health Crisis
6.00pm Tuesday 29 August
Facing relentless discrimination, social stigma and violence, women are expected to succeed in a system that actively works against them. Anni Hine Moana, Zoe Morrison and Jenny Valentish explore the patriarchal structures exacerbating women's mental ill-health.
12.30pm Wednesday 30 August
How do you share your love of books – blogs, Instagram, podcasts, a book club? Find out all the ways to talk about your favourite books and authors and where to get reading recommendations, with YA enthusiast Danielle Binks and podcaster Diem Nguyen.
3.15pm Wednesday 30 August
How are ads made? What are the symbols and language used to capture audiences? Graphic designer Andrea Innocent and arts aficionado Penny Modra take us behind the advertising curtain, with examples of ad images in progress.
1pm Sunday 3 September
Hear beloved children's author Kyo Maclear (Virginia Wolf) and Australian legend Shaun Tan (The Singing Bones) share their storytelling process and how they inspire imagination in young readers.
There is no way I could pick a favourite as yet again every single one has a topic or author I love, but I must say it's a particular thrill to be able to grill Shaun Tan about the worlds he creates. Hope to see plenty of you out and about at the festival.