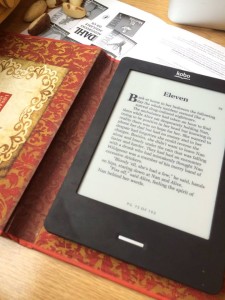 In my recent travels around the beautiful continent of the United Kingdom, I set myself the challenge of reading works either written about, or by people from, the UK. I asked for recommendations on Facebook, compiled a wish list of reads, loaded up my Kobo and set off on a trip intended to be both an opportunity to research and learn more about the UK literary world. More on that aspect of the trip can be read here.
So how did my reading challenge go? Quite well. Overall I read 12 books, which may seem like a lot for a three week trip, but includes two audio books and a couple of shorter titles. None of them were doorstoppers, and one is not quite finished. I read a lot at night (the joys of holidaying with a small child, your night time adventures are somewhat curtailed) and while in transit (we drove the length of the continent, from London to the Scottish highlands, took the train from Edinburgh to London, and of course the interminable flights).
Of the 12, nine I had never read before, six were written by women, three were YA, one was non fiction, two were crime, one was science fiction.
My favourites were probably the David Walliams audiobook of The BFG (it had all three of us in stitches, and it was so cool to introduce Ave to Roald Dahl), Brick Lane and Oranges Are Not the Only Fruit.
Reading Evelyn Waugh while staying in one of the hotels he frequented and wrote in was amazing. Visiting the Roald Dahl Museum in Buckinghamshire, wandering around the village that inspired so many of his stories and buying The BFG audiobook and collector's edition for Avery was amazing. Visiting Brick Lane after reading Monica Ali's beautiful portrait of its immigrant roots was amazing. Thinking about Mrs Dalloway's London while hearing Big Ben chime was amazing. Overall, I think I would say that immersing myself in writing about the locations I was actually in was amazing. Amazing? Yeah, amazing.
Of course I came home with more recommendations of UK authors to read, so I imagine there will be a sharp increase in them for the remainder of 2014.
The full list of the books I read, and some ratings and thoughts on those books, is on my Goodreads page.