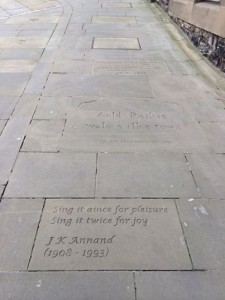 My literary pilgrimage to the UK (okay, actually tagging along on partner's work trip and hijacking it somewhat to fit in some literary business) went swimmingly, although of course it has only made me even more keen to learn more. While there, I managed to:
Meet with Jenny Niven and Joan Parr from Creative Scotland, where an hour passed by too quickly. I had so much more to ask, and so much more to follow up on. I'm keen to upick many of the ideas and information I managed to glean in that meeting. It was particularly wonderful to hear Jenny's perspectives on the differences between the two cities of literature, given she has worked in both.
Drop in to the City of Literature Trust offices in Edinburgh, meet Ali Bowden and sit down for a coffee with her coworker Sarah Morrison to talk about emerging and young writers. Sarah was a goldmine of information about the local literature world, I'm looking forward to investigating more of the leads she gave me for great events and initiatives.
Visit the Scottish Storytelling Centre, a beautiful space in John Knox House which is open to the public, and chat to the staff about the space and the programs they run there. It is such a wonderful resource, I'm jealous of the Scots.
Visit Edinburgh's Writers' Museum, which focuses on the lives and works of three legendary Scottish writers, Robert Burns, Sir Walter Scott and Robert Louis Stevenson.
Visit the Roald Dahl Museum in Buckinghamshire, indulging in my love for his creative worlds.
Visit the British Library in London, where I saw original manuscripts of some of the most important texts in Western history.
See The Drowned Man, Punchdrunk's latest immersive storytelling experience and one of the most memorable productions I have ever seen.
Catch up with old comedy buddy Sarah Bennetto, a powerhouse of a woman who writes and performs amazing shows, and is the creator of Storytellers Club.
Drop in to the Southbank Centre in London, where lots of excellent literary events take place. It's like The Wheeler Centre on creative steroids, as it also hosts enormous musical, visual and performing arts events.
Indulging in literary tourism; staying at hotels where literary greats such as Evelyn Waugh wrote; visiting locations from much-loved books (like the view over to George Heriot's School, the one Rowling reportedly stared at from her café and based Hogwarts upon); driving and walking through countryside featured heavily in some of my favourite stories, including Buckinghamshire and Oxfordshire which the fictional Midsomer of Caroline Graham's books are based upon, the genteel country views of Austen, the Oxford from the His Dark Materials series or the more sinister Oxford of Inspector Morse.
Spent a long time pouring over zines at Lik + Neon, seeing what London zinesters are up to and hoping for one of the four resident cats to wake up so I could pat them. And of course visiting adorable bookshops all over England and Scotland. I couldn't even pick a favourite there were so many gorgeous ones.
Read a whopping 12 books, all by authors from the UK. See my detailed post about that here.
Writing more of my own fiction than I have managed in a very long time, including nailing down the plot of a book that has been haunting me for almost a year. I think I finally nutted out what it is I want it to be. A big achievement.
It wasn't the giant research trip I've been dreaming of, but it was enough to get some good information and solid leads on where else to dig for information on my topics of interest. I did the best with a very short amount of time, and a four year old in tow.
I'm currently writing a summary of my discussions with Creative Scotland and the Edinburgh City of Literature Office, in which I hope to discuss a little about what I learned and the questions it has raised for me.