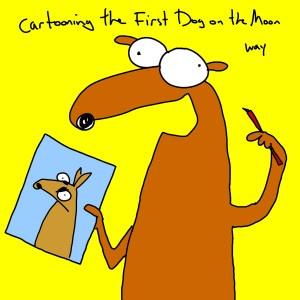 For months I've been slaving away in production land, preparing First Dog on the Moon's first foray on to the stage. After seeing him perform around a year ago at a poetry slam I was excited about his potential to do a full show of his own. We talked about it over the year, and I finally convinced him to give it a go for Melbourne Fringe Festival. Now here we are on the eve of his first show, Cartoobs and Other Typos.
The lead up has been incredible. We've sold out the entire season, added more shows, and nearly sold out those. The trial shows have gone well, and Mr Onthemoon and I are looking forward to getting things underway.
It has been really enjoyable to get back to producing a festival show, and I hope there is more of a chance to do it again soon. There are tickets still available, so come along and enjoy!