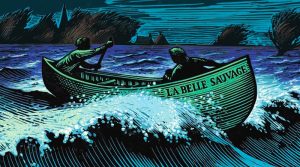 It was a relatively slow reading year. Lots of audio books, lots of re-reads, but a few stand out titles too. Of the 50 books I managed to get through, here are my highlights.
The Book of Dust was my favourite fiction book of the year. It felt so good to delve into Lyra's world again, and to have this exploration of the period before His Dark Materials. I was bracing myself for disappointment, worried that it wouldn't live up to the depth of love I feel for the HDM trilogy but was relieved to find it a great accompaniment to the previous works. I'm already hanging out for the next one.
My top non-fiction pick of the year has to be the audiobook of Magda Szubanski reading her debut novel Reckoning, A Memoir. I'm sure it was great to read on the page, but listening to her emotions crackle in your ear made this an extra special experience. It's not just that she has an engaging story to tell, it was also a pleasure to discover Magda is a beautiful writer. From her descriptions of growing up in Australian suburbia to her ability to capture the experience of visiting places rich with history, she has a beautiful way of describing both setting and emotion.
Honorable mentions:
Lynda LaPlante's Tennison novels (I watched Prime Suspect when it aired originally in the early 90s, I can't overstate how central it was to developing my love of British crime). I really enjoyed coming back to this character and getting a sense of how she evolved into the tough-as-nails female detective.
Ida was definitely a standout; this YA-scifi title is deftly constructed and keeps you turning pages long past bedtime.
Songs that Sound like Blood was a great YA read this year. Jared Thomas excels at telling the story of a young person at a pivotal point in their life, capturing the pressure and uncertainty accurately.
Birds Art Life was also a really lovely short read. I've long loved Kyo Maclear's kids books and being asked to facilitate an in-conversation session at MWF with her and Shaun Tan was a great excuse to delve into her work for adults.
Lastly, I did a lot of re-reading this year and particularly enjoyed listening to Phryne Fisher in audiobook format. She sparkles when being read aloud, I thoroughly recommend listening to whole series.