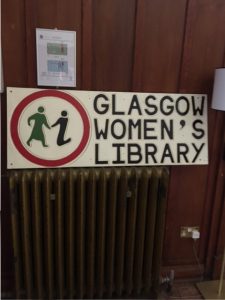 A quick visit to Glasgow allowed just enough time to pop in to the Glasgow Women's Library. This facility has recently moved to its permanent home in a gorgeous building housing a lending library, archive, craft space, gorgeous function space and offices. Around 20 staff (some part time) work on the programs run by the centre.
Imagine a place where feminism, literature, words, collectivism, politics, community and access are at the heart. The Glasgow Women's Library is this utopia. I had a tour from one of the staff, Katie, who told me the history of the library and took me into the archive space for a behind-the-scenes tour. We pulled out a box at random, one of the many collected zines, and I poured through finding gem after gem. The collection immortalises the work of women activists and provides a record of the wonderful work women writers have contributed to Scottish society. I could have stayed for days.
My visit made me wonder what a Women's Library would look like in Melbourne. Would we benefit from a centralised collection of feminist writing and history? Would a space for women to work and draw on these resources be valuable? I head to my next City of Literature (Nottingham) shortly, who also have a Women's Library I plan to visit. It will be interesting to compare and contrast the two.