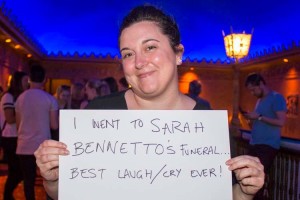 I started my MICF 2015 off with a great night. This photo was captured by the MICF official Jeez Louise photographer, who is dashing around asking audiences about their favourite female comics. I usually avoid being photographed like the plague, but couldn't resist sharing how I'd enjoyed my darling friend Sarah Bennetto's show. It was the first I saw this year, in the Ladies Lounge at the Forum, and it was such a heartwarmingly lovely way to kick off my festival. Sarah is an effervescent joy on and off stage, and audiences adore her.
After Sarah's show I headed up to Trades Hall to see Lawrence Leung and Andrew McClelland's shows, both of which were the best I have seen from either of them in years, perhaps ever (and that's saying something). I love, love, loved them. Lawrence's show was a return to a more pared-back, standup format. It allowed him to focus on delivering a high-energy, high-laugh performance which the audience ate up. He's been getting consistently good reviews, and it is easy to see why. Andy's show nearly killed me. Literally. I laughed so hard I choked. I left with my stomach aching and my cheeks hurting. I can't speak highly enough of it.
With shows like this on my first night, the bar has been set very high for the rest of the season.