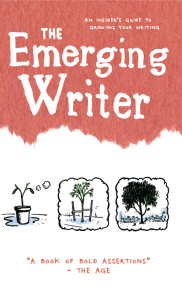 Here she is, in all her glory, the 2013 edition of The Emerging Writer. Isn't she pretty? I'm excited to have a chapter published in the book this year, talking about how vital community is to emerging writers and why it should be the focus of our energy rather than networking.
It's a pleasure to be featured in the book, especially alongside such talent as Penni Russon, Alice Pung, Shaun Tan and Zoe Dattner.
You can learn more about The Emerging Writer, including where to find a copy to make your very own , at the Emerging Writers' Festival website. Even better, come along to the launch on Thursday 30 May at the Fitzroy Town Hall. Bookings here.